WELCOME TO
Natural Beauty and Wellness Essentials
We are located in Toronto and help you to make the most of your natural beauty. In our relaxed environment, we provide Facial and Skin Care, Acne and Scar Treatments, and Anti-Aging Treatments, all at reasonable prices. For all our services, you are in safe professional hands with Lucia Dias who is a qualified Esthetician and Beauty Therapist.
Esthetician and Beauty Therapist.
Lucia Dias is much more than an Esthetician. She is a woman who passionately involves all her educational knowledge and experience to acquire the results that her clients/patients desire. Since 1990 she has incorporated Homeopathy and Holistic Nutrition along with her skin care regimens to create a total balance in Health, Wellness and Beauty.
Lucia has been a practicing Esthetician since 1981 having trained and graduated in Britain with renowned "Steiner's School of Beauty Therapy".
She further graduated as Beauty Therapist, Body Therapist, Medical Electrologist in Britain and Clinical Aromatherapy with Eve Taylor (UK), Reflexologist (Canada) and continues to acquire further knowledge to enhance in total wellness. Having lived in many continents, she has international experience worldwide.
At present Lucia mainly focuses on skincare to provide healthy skin and anti-aging for her clients. Each treatment and application protocol is customized in accordance to the requirements of the client's skin care needs to provide beneficial results.
Lucia utilizes YONKA as her skin care line for all treatments for it provides relaxation and long lasting results. Yonka uses the most precious part of plants and their essential oils which are revitalizing with solar energy and active ingredients- vitamins, polyphenols, peptides, oligo elements, fruit acids which act with precision and specific needs to the respective skin type.
The 5 essential oils – "Quintessence"-Lavender, Geranium, Rosemary, Cypress and Thyme reinforce the effectiveness of the natural active ingredients from plants from all over the world.
Order a Gift Certificate
Give one of our Gift Certificates to one of your loved ones, family, friends, colleagues or a staff member.  They will appreciate the indulgence of having a professional Esthetician take care of their skin in a relaxing atmosphere. Gift Certificates are available for services and products from Natural Beauty and Wellness Essentials. Call to discuss what is needed and you can pick them up or have them mailed out to you.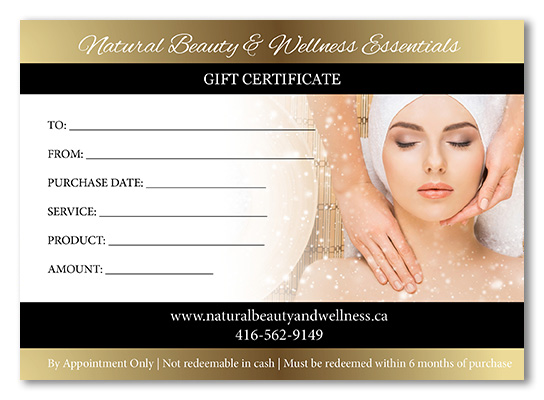 Make an Appointment
Our appointments range from 50 to 90 minutes in length depending on the treatment.
Appointments can be booked for weekdays from 11:00 a.m. until 7:00 p.m.
Please complete the email form below and we will get back to you as soon as possible.
We can also be reached by phone at 416-562-9149.